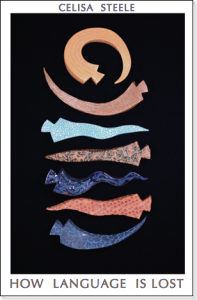 "If a new poet has to get just one thing right it's learning to listen to herself," says Carrboro Poet Laureate Celisa Steele. I asked her about being commissioned to write a poem for a public event. "Occasional poems are difficult," she said. Watch the interview to hear her enlightening perspective on the inverted nature of that activity.
Steele's first book, "How Language is Lost," has garnered accolades from across the spectrum of active poets. It's no wonder, since the same thoughtfulness she brought to this interview she infused into the works in the book. Steele is one of a minority of poets that memorizes and recites work publicly. Her interest in sound and performance is refreshing, and brings to life some of the immediacy of poetry performed in an earlier time.
When she's not writing or performing her work, Steele is promoting a project called Carrboro is Poetic, resulting in a variety of public poetry activities including poems posted in galleries and boxes around the town.
You can read more about Celisa Steele at celisasteele.com.
---
Voicings is a series of interviews conducted by writer Tyler Johnson featuring writers, musicians, artists, and thinkers in their own words.