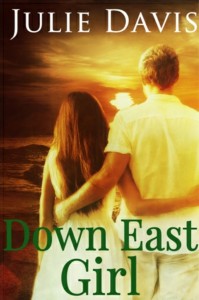 Julie Davis has just released Down East Girl, a lovely book about coming of age in eastern North Carolina.
The story follows Lily McIntyre, a precocious girl whose family is rumoured to be descended from pirates. Lily delights in this swashbuckling family legend and we are carried along on her girlhood adventures on Harkers Island. Although Lily is bound to the sea, her intellectual nature and the coming of World War II pull her inland toward Beaufort and Chapel Hill, where her life grows more complex as she reaches adulthood.
This is a beautifully rendered story of life on North Carolina's Outer Banks. It portrays an honest and sometimes difficult struggle of the people of Harkers Island's fishing villages as they realize that their way of life is passing into the mists and a modern world is emerging around them.
This book is rich with the local dialects and aphorisms of the island, thoroughly researched by Davis. While the book is painted in golden hues, the language brings shocks of color that truly delight.  Each chapter is its own very satisfying story, making it a pleasure to come to. In style and tone it is reminiscent of Laura Ingalls Wilder or James Herriot, though with more adult themes from time to time.
The story arc is gentle and the camera stays up close throughout, but don't be surprised to find humor and history among the seashells.
5 stars.