Alice Osborn is a dynamic poet, editor, and writing coach in Raleigh, North Carolina. What I recently learned is that she also has the Irish fiddle and dance bug. Bad. In my never-ending quest to understand why we dance, I reached out to her to find out just what it was that was drawing her deeper and deeper into traditional music and dance. This is what she said.
---
I can't remember why I stopped dancing, but now I never want to stop. Since I was three to about twelve years old I took ballet and a year of tap in Northern Virginia. My last two years of dancing were with the Christina Heimlich International School of Dance and I especially loved the solo stuff. I re-started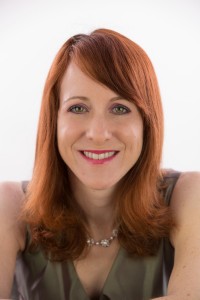 my dancing practice last fall when I joined Rince Go Halainn in North Raleigh, one of North Carolina's only non-competitive dance schools. And get this, my teacher, Catrina Mineo, noticed that my folk dancing never left my body—it seems my moves were imprinted from 30 something years ago. That's pretty cool and it gives me a great deal of hope that I can master this Irish dance thing.
I want to dance to feel more connected to my body again. To loosen up and let go of stress. As a writer, I'm all in my head most days and I'm totally ignoring what my body is doing. Plus I'm editing, sitting down and that's way too much pressure on my lower back—my posture sucks! And within the content of my writing, I usually ignore anything that has to do with someone's body. As an aspiring musician, Irish dancing is based on beats and it's all about your timing. Plus Irish dancing is great exercise and I'm keeping my mind sharp learning all of the dance moves—it's like learning to recite a poem, but much more intense.
With Catrina's encouragement and support, I've been in three pub shows at Tir Na Nog. Where else can you drink a Guinness immediately post show? The first two shows I totally did some freestyle moves and at the second show almost fell over taking my bow. The third show was a lot smoother. I'm now practicing feverishly for the St. Patrick's Day Parade and need to kick my butt more. Ouch, my lower back is protesting.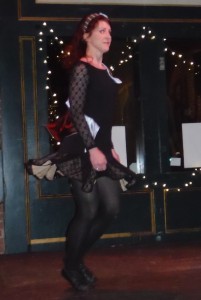 I've got my blue/brown school dress, wig, tights, bloomers and shoes all lined up and ready. My family thinks nothing of me doing butterflies, hop jumps, light jigs, reels and slip jigs in the kitchen. My six-year-old daughter, Erin, scours You Tube to help me find Irish dance instruction videos and "how-tos" for putting on your wig. Turns out you need lots and lots of bobby pins and a doughnut (I used this non-edible accessory in ballet class when I needed a quickie bun).
I had originally wanted Erin to Irish dance because I thought with her name she'd fit right in and figured she'd totally go for the sparkling dresses. But after a demo at another school's open house, Erin adamantly said, "No!" She's taking singing lessons instead and is my accountability partner.
Anyone can Irish dance as long as you're willing to listen and learn. I've had back surgery for Pete's sake. Some coordination helps, but you don't have to be a kid! And you certainly don't have to be Irish (I'm Scottish on my dad's side—the wrong side, by the way).
It's fun, it makes you smile, and hold your head up high. And when you're dancing you forget about everything except the moves and the music. Erin Go Bragh!
---
Alice Osborn is the author of three books of poetry, After the Steaming Stops, Unfinished Projects and Right Lane Ends and is the editor of the anthology, Tattoos. She's working on her next poetry book, Heroes without Capes. Her past educational and work experience is unusually varied and now it feeds her strengths as an editor for hire and writing coach who takes good writers and turns them into great authors. Her pieces have appeared in the News and Observer, The Broad River Review, The Pedestal Magazine, Soundings Review and in numerous journals and anthologies. She serves on the Board of Trustees of the North Carolina Writers' Network and is a leader in several women's networking organizations. Alice lives in Raleigh with her husband and two children and three birds. When she's not writing or Irish dancing, she's playing her violin or guitar. Visit Alice's website at www.AliceOsborn.com